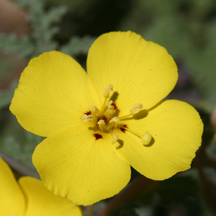 The Eaton Canyon Nature Center
The Center was reopened in November of 1998. The 7,600 square-foot building contains many fascinating displays, live animals, offices, classrooms, an auditorium, restrooms, and an information desk/gift shop.
Eaton Canyon
Be Your Own Tour Guide
Have fun discovering the plants, geology, and some of the animals (we hope!) of the Eaton Canyon nature preserve.
Eaton Canyon Animals
Remember when visiting Eaton Canyon or any other natural area, take your camera or binoculars with you into the canyon, but please LOOK ONLY – touching or even trying to touch the wildlife can stress them and cause illness or death, upsetting the balance of nature.
Eaton Canyon Plants
As you walk through the Canyon, pay close attention and you will see and hear many interesting things. The coast live oak is the most prevalent tree in Eaton Canyon and in Southern California. We also have sages, buckwheat, monkeyflowers, prickly pear cactus, sycamore trees, and hundreds more.
Eaton Canyon History
The beautiful San Gabriel Mountains have a rugged, steep southern ridge and a taller northern ridge, the two being separated from one another by a series of east-west canyons. They run along the San Gabriel Fault, once a main part of the San Andreas Fault, and contain the east and west forks of the San Gabriel River.
Want to Become and Eaton Canyon Conservation Volunteer? Click the button to join the team.
Address
1750 N. Altadena Dr
Pasadena, CA 91107
Park Hours
Normal hours: Tuesday-Sunday
8am-7:30pm
Nature Center Hrs
Tuesday-Sunday
10:30am-7:30pm
Saturday
8am-7:30pm
Gift Shop Hours
Alternating Tues
10:30am-2:30pm
Wed & Fri
10:30am-2:30pm
Saturday
10am-2pm
Sunday
10:30am-2:30pm
Parking
Eaton Canyon has become a very popular place to connect with nature. Because of this, the parking lot is often full, not only on weekends but also on weekdays. If you arrive and there is nowhere in the main lot to park, you may use our overflow parking in the Equestrian Area. To access it, enter through the gate on the north side of New York Drive, just east of Altadena Drive. From there you can walk along the west side of the wash to reach the hiking trails or take the short foot path into the main parking lot to access the Nature Center.